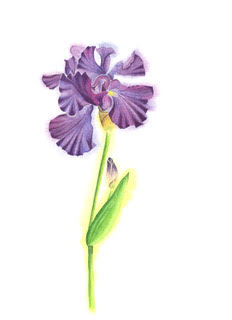 Artist Bio
I was born and raised in Winston-Salem, NC and have always enjoyed making art of all kinds – from watercolors (my main focus) and acrylics to experimenting in etching, printmaking, pottery and weaving. I've been in a student in numerous watercolor classes in New York City as well as workshops at The Heatherly School in London and at Penland School of Craft in North Carolina. Two of my paintings – 'Violet Idaho Iris' and 'Lavender Idaho Iris' are featured in the juried show at the Friedman Memorial Airport in Hailey until November 2023.
My Idaho wildflower notecards are currently available for sale in the Wood River Valley at: The Picket Fence, Signatures in Sun Valley Village, Moss Garden Center's Gift Shop and Redfish Lake Lodge General Store.
I've participated in multiple exhibitions in Point O' Woods on Fire Island, NY and Penland School of Craft in Spruce Pine, NC.
I've been commissioned to paint wedding bouquets, house portraits, landscapes and botanicals.
Artist Statement
During Spring and Summer, the Wood River Valley rewards us with beautiful flowers – both wild and cultivated. I love living in nature's backyard…my paintings are inspired by the seasonal light, color and creativity of the mountains surrounding us.
For over 20 years, I've painted watercolor botanicals. My technique is multi-faceted and multi-layered: initially, I draw a light pencil sketch of the flower; next, I wet the paper and drop paint within the lines of the drawing which then bleed, soften and fade as the paper dries thus creating a 'halo' or ethereal effect around the flower; lastly, I paint a second layer of detail which completes the painting. My goal is to create paintings that burst with energy, life and texture…layer upon layer of evolution and growth. I'm inspired by the botanical paintings of Elizabeth Blackadder, Hilma af Klint and Georgia O'Keefe.