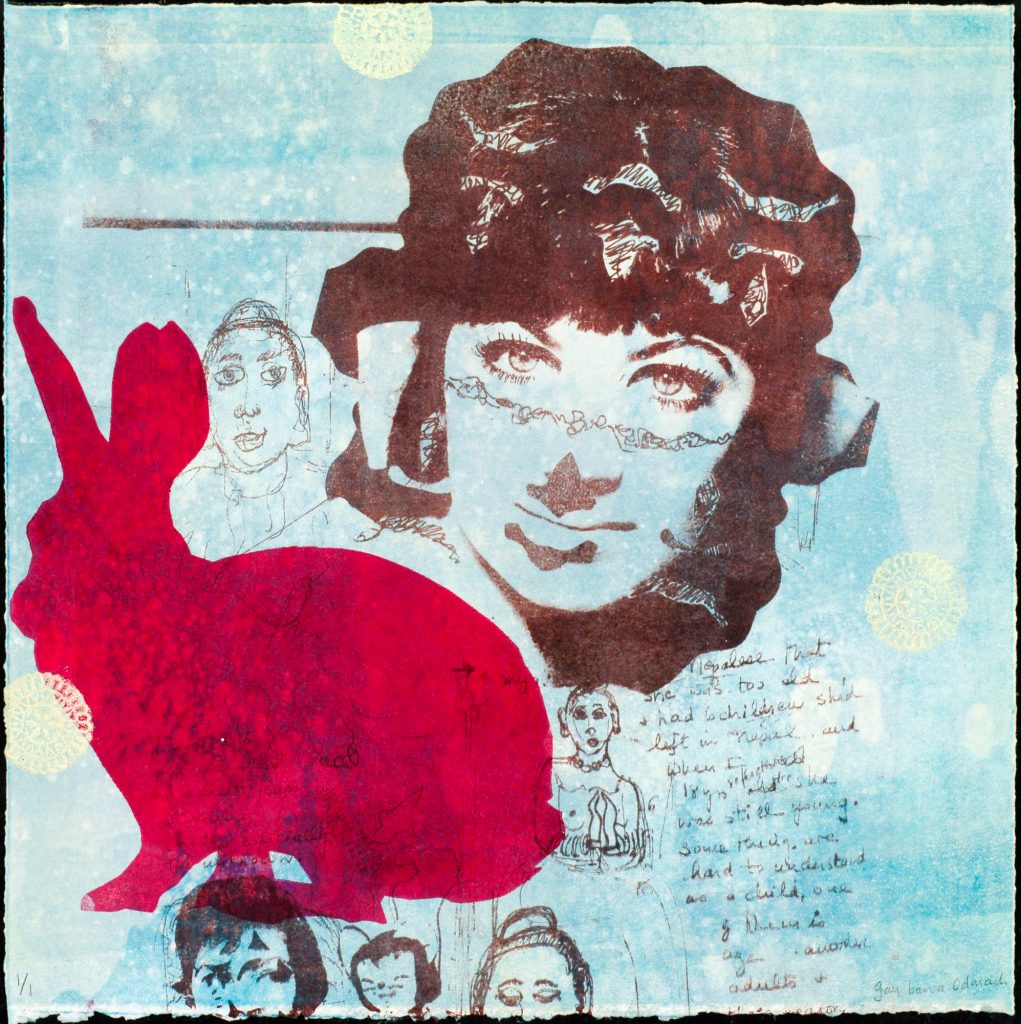 Artist Bio
Gay's life and art embody her international background. Born in Lahore, a city in northern India, now Pakistan, daily life teemed with exotic imagery of garden flora and fauna, such as snakes, lizards, and birds. The bustle of the city, dotted with colorful and aromatic markets and temples, played their part in her development, but these experiences were tainted by tragic fragmentation caused by a civil war in 1947 dividing India into the creation of Pakistan when her family fled.
Gay settled in London in 1959 to study fashion and art, and received a painting diploma from the Slade school, London. In 1970, she based herself in San Diego, California and, for twelve years, designed and manufactured a unique line of jewelry, which incorporated diamonds and pearls in brooches, necklaces, and rings. Much of her work employed the cloisonné technique. From 1979 to 1988, Gay studied fabric dyeing, printing, and painting. While studying photography at the San Francisco Art Institute, she found inspiration in photographers such as Cater-Bresson, Bill Brandt, and Dorothea Lange.
In 1988, Gay moved to Ketchum, Idaho. From 1992 to 2009, she was represented by Gail Severn Gallery and had a one person show at the Sun Valley Center for the Arts, curated by Courtney Gilbert. As Gay's prowess matured, her heritage of eastern ideas and experiences energized her creative spirit. She entered a mindscape where memories and dream-like inspiration dance with each other to create her ultra-personal art. She expanded her repertoire of techniques to include ceramics and printmaking, studying with printmaker Jennifer Mikesh at Vita Brevis.
She currently enjoys writing in addition to making art and is writing a memoir on her Indian childhood.
Artist Statement
The monotype process is a printmaking technique that involves creating a unique and singular image on a smooth surface, typically a metal or glass plate, which is then transferred onto paper. Unlike other printmaking methods, such as etching or relief printing, the monotype process results in a one-of-a-kind print rather than a multiple edition.
After the print is completed, it may be further enhanced with additional techniques, such as hand-coloring, collage, or drawing. This versatility and potential for mixed media make the monotype process a popular choice among artists seeking to combine various artistic elements.
It offers artists the versatility to experiment with textures, colors, and compositions, allowing for expressive and unique works of art akin to mixed media.